Fantastic role! Global professional services firm require a Digital Architect to take responsibility for design and development of solutions that the firm take to clients. The Digital Architect executes prioritised projects and initiatives as part of a portfolio managed by the Solutions team and helps to knit the products they are responsible for with other Global Markets products. The firm is looking for a Business Advisor from Innovation source, R&D/Product Development. Although technology will be a big part of this role, the firm is not looking for an IT person.
Key responsibilities include:
•Works closely with sponsors to provide a business architect point-of-view to the solution scope and framing, including defining the details of each technology development
•Leads various teams including Innovation, Knowledge, Global IT Services, Brand Marketing & Communications to design, develop and package the overall solution, including solution vision and related service components, technology enablement, go-to-market strategy and approach, client meeting materials
•Manages the rapid prototyping of solutions, in particular technology, leveraging resources across the firm
•Liaises with subject matter experts, executive sponsors, off-shore and on-shore talent and works with Risk Management or any other function as needed.
•Ensures all relevant competencies are leveraged in solution and product development
•Advises on the planning and execution of pilots, when appropriate, leveraging the sponsor/champion to identify potential clients/account teams to engage.
•Analyses the impact of deployment activities through feedback channels and adjust to have a maximum communication impact.
•Works with sponsor/champion to make go-forward decisions related to scaling and deploying the solution, and lead the transition from incubation to scaled development.
To be considered for this role you will need the following skills and experience:
•Ability to understand the business vision and objectives, and translate business requirements in to digital products and solutions
•Adapt constantly to changing work requirements while assimilating new information, analysing it, and effectively applying it
•Take initiative and manage multiple products, simultaneously, in a fast-paced and highly challenging environment
•Ability to influence at all levels of the organisation
•Able to influence and coordinate across a multi-country, multicultural and highly distributed organisation
•Strong product/project management skills including the ability to lead workstreams across borders, sectors, functions and service lines
•Excellent visualisation, communication, listening and facilitation skills to interface with all levels of professionals
•Executive poise and presence to interact with senior level executives within the firm as a trusted advisor
•Excellent sense of operational efficiency, judgment, tact, and decision-making ability
•Strong written and verbal communication skills
•Domestic and international travel may be required periodically
CB Resourcing operates as both an employment agency and an employment business. Applicants will need to be able to provide us with proof of their eligibility to work in the UK on request.
Please email hello@cbresourcing.com with your CV and contact details for a confidential discussion about this position.



If you find a KM Job and would like to include it in this list then tweet it making sure the words knowledge management and job appear in the Tweet.




If you would like to receive an e-mail alert whenever a new job in your region is posted on this website then please click the button below and complete the form. Alternatively, a number of regional RSS feeds are available.





Gurteen Knowledge Community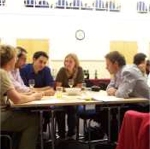 The Gurteen Knowledge Community is a global learning community of over 21,000 people in 160 countries across the world.

The community is for people who are committed to making a difference: people who wish to share and learn from each other and who strive to see the world differently, think differently and act differently.

Membership of the Gurteen Knowledge Community is free.
Knowledge Community