A leading law firm are looking for a permanent Document Automation Specialist to join their London based Knowledge team.
The role will involve carrying out day to day automation work and maintaining the flow of projects and working with key stakeholders.
This role requires expertise in Contract Express, looking at integration with existing systems and workflow with a view towards moving into the artificial intelligence space.
In order to be considered for this role, you will need the following skills and experience:
•A technical background with experience in a professional services environment.
•To be and expert in Word/Document automation/Contract Express
•Experience of enhancing existing products
•Ability to manage and produce a suite of documents with minimal supervision
•Ensure best practice and operational efficiency.
•Solution finder with the foresight to suggest alternative strategies where necessary
•Credibility – can manage multiple stakeholders across a range of projects
•Strong communication skills and able to explain technical concepts for the benefit of their stakeholders
•Commitment to enhancing productivity and technical innovation across the firm.
•Demonstrates enthusiasm for Contract Express and willing to focus on this as the main element of their role.
•Able to learn quickly and apply knowledge to increasingly complex and changing work.
This is an ideal opportunity for someone who has gained expert experience of managing contract express in a professional services organisation.
CB Resourcing operates as both an employment agency and an employment business. Applicants will need to be able to provide us with proof of their eligibility to work in the UK on request.
Please email hello@cbresourcing.com with your CV and contact details for a confidential discussion about this position.



If you find a KM Job and would like to include it in this list then tweet it making sure the words knowledge management and job appear in the Tweet.




If you would like to receive an e-mail alert whenever a new job in your region is posted on this website then please click the button below and complete the form. Alternatively, a number of regional RSS feeds are available.





Gurteen Knowledge Community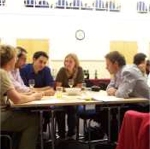 The Gurteen Knowledge Community is a global learning community of over 21,000 people in 160 countries across the world.

The community is for people who are committed to making a difference: people who wish to share and learn from each other and who strive to see the world differently, think differently and act differently.

Membership of the Gurteen Knowledge Community is free.
Knowledge Community