Exceptional new role! Head of Knowledge Architecture required by global law firm to design, implement and manage a new firm wide knowledge architecture that enables partners and lawyers to store, manage and find information. The firm-wide knowledge architecture will support effective legal work product delivery, business development and information risk management. It will also act as the foundation for the application of big data technologies to legal content.
Key responsibilities
•Conduct a firm-wide knowledge and information audit
•Gather business requirements around knowledge and information across the client matter lifecycle from key stakeholders
•Develop a knowledge architecture including firm-wide taxonomies, meta-data, controlled vocabularies and data mapping
•Develop standard processes for gathering, tracking and reviewing information across the client and matter lifecycle
•Business oversight of all existing firm KM systems, including devising and enforcing policy around content management standards
•With other key stakeholders, inform decision-making and designs for future knowledge and information capture technology solutions, including in the business intelligence/big data area
To be considered for this role you will need the following skills and experience
•Technical knowledge and experience of taxonomies, meta-data, controlled vocabulary design and data mapping at an enterprise level, and good understanding of business intelligence and big data technology
•Experience of business process design and management, including formal business and functional requirements-gathering processes and procedures
•Experience of information governance policy and enforcement at the enterprise level
•Experience of enterprise knowledge/information architecture in a law firm or other professional services environment
•Excellent IT understanding, including of IT enterprise architecture and data flows within professional organisations
•Familiarity with business intelligence software, e.g. Tableau or competitor products
•Previous law firm experience preferred
•Project management and/or business process qualifications a bonus
•Salary c.6 figures
CB Resourcing operates as both an employment agency and an employment business. Applicants will need to be able to provide us with proof of their eligibility to work in the UK on request.
Please email hello@cbresourcing.com with your CV and contact details for a confidential discussion about this position.



If you find a KM Job and would like to include it in this list then tweet it making sure the words knowledge management and job appear in the Tweet.




If you would like to receive an e-mail alert whenever a new job in your region is posted on this website then please click the button below and complete the form. Alternatively, a number of regional RSS feeds are available.





Gurteen Knowledge Community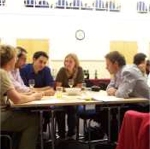 The Gurteen Knowledge Community is a global learning community of over 21,000 people in 160 countries across the world.

The community is for people who are committed to making a difference: people who wish to share and learn from each other and who strive to see the world differently, think differently and act differently.

Membership of the Gurteen Knowledge Community is free.
Knowledge Community