POWER To Succeed is fast becoming the No.1. interactive 2 day training course for people who want to step up, step out and own their success. Whatever you may have heard you to go to know and ITS FREE
POWER TO SUCCEED is a powerful, motivating 2-day Seminar. This is a no-holds barred, hands-on, interactive seminar: You are actively involved in each step of our Empowering Coaching System Process. There is no theory here, we ALL roll our sleeves up and get our hands dirty - there is no better way to learn than by doing, and that starts right now! Accelerate your shifts, your growth and then facilitate your move into a new space.
AT POWER TO SUCCEED you will:
Learn to cope with one of our key fears around judgment, understand unconscious programing, from our upbringing, education, and experiences around what is holding us back.
Get given tools to counter anything that is holding you back which then creates momentum and gives you results.
Develop effective action steps, join a community of doers and achievers
NEW! The Coaching Hour - this is where Elliot address and coaches live from stage. Have a burning issue that needs addressing? Make sure you are there for The Coaching Hour, it might be you he picks.
NEW! Learn Elliot's strategies that took him from broke to wealth in a time where he was told to quite, get a job and during the worst recession. Despite all of that Elliot, The Coach with the Hat has turned his life around and he will show you how.
An experiential event, POWER TO SUCCEED takes you back to learning through doing:
Experiential learning means you are interacting on a much deeper level where the impact lasts longer
You personally experience the lessons taught to end up where YOU need to be by processing the lessons on a deeper core level than traditional learning techniques allow
You will be facilitated in discovering your innate tools to maintain purpose, passion and get results.
Join us 8am for registration and doors open at 9am sharp!
Time: 8:00 am - 7:30 pm.
Artists / Speakers: Elliot Kay, The Coach with the Hat.
Price:
POWER TO SUCCEED : FREE.



Video Playlist: Alfie Kohn







You will find information on hundreds of events such as conferences, workshops and courses on this website - events that relate to the themes of the site: knowledge, learning, creativity, innovation and personal development.

If you would like to receive an e-mail alert, no more than once a week, that informs you of recently posted events in your region then please click on the button below and complete the form. You also have the option of being reminded once a week of events coming up in your region within the next month.




On the other hand you may prefer to subscribe to an RSS Feed that will keep you informed of events in your region.
Gurteen Knowledge Community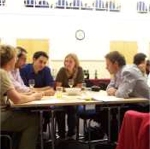 The Gurteen Knowledge Community is a global learning community of over 21,000 people in 160 countries across the world.

The community is for people who are committed to making a difference: people who wish to share and learn from each other and who strive to see the world differently, think differently and act differently.

Membership of the Gurteen Knowledge Community is free.
Knowledge Community