The course will offer a holistic perspective of validation which should be kept in mind at all times validation is about assessing the usefulness of a quantitative risk model.
Over the last few decades we have seen the use of quantitative risk models become a cornerstone of financial regulation. Financial institutions now have to determine capital buffers based on increasingly complex modelling techniques.
In addition, the crisis has highlighted the need for rigorous and critical analysis of the application of such models and has displayed the need to assess the detrimental effects that the misuse of risk models can produce.
With these challenges in mind, Risk is delighted to offer this specialist training course which has been designed to focus on the assessment of risk models in the context of concrete risk model implementation. There are numerous validation tools available, and the course will individually describe these tools and their application in practice.

Video Playlist: Stephen Covey







You will find information on hundreds of events such as conferences, workshops and courses on this website - events that relate to the themes of the site: knowledge, learning, creativity, innovation and personal development.

If you would like to receive an e-mail alert, no more than once a week, that informs you of recently posted events in your region then please click on the button below and complete the form. You also have the option of being reminded once a week of events coming up in your region within the next month.




On the other hand you may prefer to subscribe to an RSS Feed that will keep you informed of events in your region.
Gurteen Knowledge Community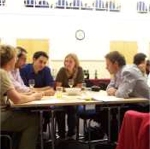 The Gurteen Knowledge Community is a global learning community of over 21,000 people in 160 countries across the world.

The community is for people who are committed to making a difference: people who wish to share and learn from each other and who strive to see the world differently, think differently and act differently.

Membership of the Gurteen Knowledge Community is free.
Knowledge Community