Europe's only event dedicated to analytics and BI in the gaming industry.
Why Attend?
The only meeting dedicated to analytics and BI for the games industry.
Network with peers in the same field from other developers and publishers
Discover what data other studios are collecting and, more importantly, how they are interpreting it
Learn how to make effective business decisions from your data through appropriate visualisation
Make the most of the chance to meet the leading technology providers involved in data management, visualisation and analytics.
on Wednesday September 17, 2014 at 9:00 am (ends Thursday September 18, 2014 at 5:00 pm)
Price: GBP 999
Speakers : Thomas Hulvershorn, Nick Ross, Lars Janssen, Peter Tillotson

Video: David Gurteen on how to best secure continuous innovation





David Gurteen on how to best secure continuous innovation.

The Institute for Research and Innovation in Social Services (IRISS)

, Glasgow.

Media Information:



You will find information on hundreds of events such as conferences, workshops and courses on this website - events that relate to the themes of the site: knowledge, learning, creativity, innovation and personal development.

If you would like to receive an e-mail alert, no more than once a week, that informs you of recently posted events in your region then please click on the button below and complete the form. You also have the option of being reminded once a week of events coming up in your region within the next month.




On the other hand you may prefer to subscribe to an RSS Feed that will keep you informed of events in your region.
Gurteen Knowledge Community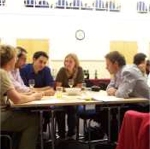 The Gurteen Knowledge Community is a global learning community of over 21,000 people in 160 countries across the world.

The community is for people who are committed to making a difference: people who wish to share and learn from each other and who strive to see the world differently, think differently and act differently.

Membership of the Gurteen Knowledge Community is free.
Knowledge Community