6:00 to 8:00
This talk will use the case study of the Knowledge Transfer Partnership between RPC LLP and Westminster Business School highlighting:

➢ what the partners set out to achieve
➢ the nature of collaboration
➢ if we ended up with more than we've yet to realise

The Knowledge Transfer Partnership between RPC LLP and Westminster Business School designed and developed Edge, an innovative social media knowledge platform serving the knowledge management, commercial, people and organisational requirements of RPC.

The partnership brought about a substantial shift in the organisational culture and behaviour and guided the creation of new pathways for business management. The project led to economic impact by enhancing the research capacity, knowledge and skills of RPC and continues to generate benefits by contributing toward wealth creation and economic prosperity.

The project was awarded the grade of "Outstanding", won Best KM Initiative or Implementation in a Professional Services Firm (KMUK 2011), was commended in the Intranet Innovations Award 2011 and was shortlisted for Best Use of Technology (British Legal Awards), Innovation in the Workplace Award (Innovation Nation Awards) and Best Knowledge Management Strategy (The Lawyer Management Awards).

To book your place at the event, please email Haydn Worley at h.worley@westminster.ac.uk.



Flickr Slideshow: KM Asia, November 2006, Singapore





You will find information on hundreds of events such as conferences, workshops and courses on this website - events that relate to the themes of the site: knowledge, learning, creativity, innovation and personal development.

If you would like to receive an e-mail alert, no more than once a week, that informs you of recently posted events in your region then please click on the button below and complete the form. You also have the option of being reminded once a week of events coming up in your region within the next month.




On the other hand you may prefer to subscribe to an RSS Feed that will keep you informed of events in your region.
Gurteen Knowledge Community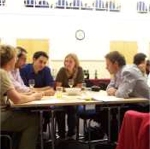 The Gurteen Knowledge Community is a global learning community of over 21,000 people in 160 countries across the world.

The community is for people who are committed to making a difference: people who wish to share and learn from each other and who strive to see the world differently, think differently and act differently.

Membership of the Gurteen Knowledge Community is free.
Knowledge Community