Discover how to :
Have absolute clarity on what you most value and why ?
Make money doing what you love ?
Master your emotions?
Achieve inspired goals and objectives ?
Stay focused, enthusiastic and vital ?
Unleash your financial genius ?
Revitalise health and wellness ?
Grow and expand your business ?
Learn how to overcome your challenges ?
Get rid of fears, worries and anxieties?
Resolve Conflicts and improve your relationship with your loved ones?
Dissolve feelings of shame or guilt?
Reduce the level of stress?
Raise the self-esteem and self-confidence?
Find a deeper meaning and your true magnificence?
Stop postponing your life and procrastinating?
Learn how to turn obstacles into opportunities?
And get more inspiration and enhanced productivity from your life?
Are you ready to activate your true potential and transform yourself from a victim of your history to master of your destiny ?
The list could go on. But if you have said yes to any of the above, then The Transformation Experience program is for you.
This two-day personal development program will assist you to :
Determine what inspires you most and how that relates to your most viable career
Determine what your most highest values and your perceived voids that form them
Master the art of both personal and professional communication (including the art of sales)
Dissolve tension and build relationships – with your partner, family, friends and colleagues
Find out how to set congruent goals in realistic time frames to achieve results
Learn how to apply the Demartini Method to enrich your life
Dissolve the emotional distractions that hold back your vitality for life
Learn how to take your power back and expand your influence
Increase productivity
Inspire and empower teams in professional environments
Appreciate yourself, the people and the world around you
Earn an income doing what you love
Artists: John Demartini, Edward Kreiman
Price: EARLY BIRD TICKET: 250, SINGLE TICKET: 350, REFRESHER: 150, COUPLES: 450
Time: 08:30-18:00
URLs:
Inquiries: http://atnd.it/12144-5
YouTube: http://atnd.it/12144-4
Facebook: http://atnd.it/12144-2
Tickets: http://atnd.it/12144-1
Booking: http://atnd.it/12144-0
Category: Conferences | Business & Economics | Finance

Video: Clay Shirky: How cognitive surplus will change the world







You will find information on hundreds of events such as conferences, workshops and courses on this website - events that relate to the themes of the site: knowledge, learning, creativity, innovation and personal development.

If you would like to receive an e-mail alert, no more than once a week, that informs you of recently posted events in your region then please click on the button below and complete the form. You also have the option of being reminded once a week of events coming up in your region within the next month.




On the other hand you may prefer to subscribe to an RSS Feed that will keep you informed of events in your region.
Gurteen Knowledge Community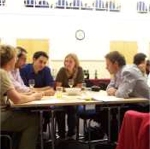 The Gurteen Knowledge Community is a global learning community of over 21,000 people in 160 countries across the world.

The community is for people who are committed to making a difference: people who wish to share and learn from each other and who strive to see the world differently, think differently and act differently.

Membership of the Gurteen Knowledge Community is free.
Knowledge Community