Stories have a powerful role to play in organizations as a source of insight, as a vehicle for sharing knowledge, as a way of generating energy and enthusiasm, as a means of engagement…

At this event, we will be convening people from a wide range of backgrounds to share their experiences, practices and approaches and learn about the impact that stories can have on organizations – how they can illuminate and obscure, unite and divide, spark and drain energy.

We're curious about the role storytelling can play in revitalizing the heart of the organization and what it stands for, in effecting change and in getting the disenfranchised and disenchanted to join in.



Video: Web 2.0 for public officials.





David Gurteen discute as influências da web 2.0. para os funcionários públicos e as mudanças no relacionamento entre os níveis hierárquicos. (David Gurteen discusses the influences of web 2.0. for public officials.) Filmed at KM Brasil 2008.

Media Information:



You will find information on hundreds of events such as conferences, workshops and courses on this website - events that relate to the themes of the site: knowledge, learning, creativity, innovation and personal development.

If you would like to receive an e-mail alert, no more than once a week, that informs you of recently posted events in your region then please click on the button below and complete the form. You also have the option of being reminded once a week of events coming up in your region within the next month.




On the other hand you may prefer to subscribe to an RSS Feed that will keep you informed of events in your region.
Gurteen Knowledge Community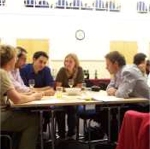 The Gurteen Knowledge Community is a global learning community of over 21,000 people in 160 countries across the world.

The community is for people who are committed to making a difference: people who wish to share and learn from each other and who strive to see the world differently, think differently and act differently.

Membership of the Gurteen Knowledge Community is free.
Knowledge Community