Unlocking Innovation
An Interactive Exploratory Workshop
Do you want to introduce change and innovation into your organisation? Do you have problems that need solutions? Do you need to get ahead of your competitors in this rapidly changing commercial environment?
Westminster Business School invites you to participate in an interactive workshop to help you identify the nature of these issues and possible ways forward.  We will offer you support in realising the benefits of unlocking these blocks and adopting a more innovative approach to support your organisation in the short and long term.
Aims and benefits
The aim of the event is to explore, identify and promote routes to opening up innovative solutions in the workplace.
Workshop details
Date:           6th March 2013
Time:           14:00 – 17:00
Leaders:      Fefie Dotsika and Keith Patrick
Location:     Room M303,
Westminster Business School (University of Westminster)
Marylebone campus
35 Marylebone Rd,
London. NW1 5LS
How to book your place
To register for the workshop, please visit http://www.westminster.ac.uk/innovation and fill in the
registration form.
Contact
If you would like more information about the workshop, please contact Nihal Salah on
n.salah1@westminster.ac.uk.

Video: Wikis in Plain English







You will find information on hundreds of events such as conferences, workshops and courses on this website - events that relate to the themes of the site: knowledge, learning, creativity, innovation and personal development.

If you would like to receive an e-mail alert, no more than once a week, that informs you of recently posted events in your region then please click on the button below and complete the form. You also have the option of being reminded once a week of events coming up in your region within the next month.




On the other hand you may prefer to subscribe to an RSS Feed that will keep you informed of events in your region.
Gurteen Knowledge Community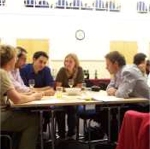 The Gurteen Knowledge Community is a global learning community of over 21,000 people in 160 countries across the world.

The community is for people who are committed to making a difference: people who wish to share and learn from each other and who strive to see the world differently, think differently and act differently.

Membership of the Gurteen Knowledge Community is free.
Knowledge Community