Stellar Global Partnership
The Creative Action Exploratorium
Discover the power of Creative Action, a next generation innovation methodology
Venue: Royal Society of Dramatic Art, London
http://creativeaction.eventbrite.co.uk
In this two-day event, corporate innovators, agencies, consultants and academics will explore Creative Action, a next generation innovation methodology.
Creative Action is a way of conceiving and birthing products, services, experiences, facilities, ways of working and other new creations that generate maximum value for the business ecosystem. (A business ecosystem differs from a stakeholder system in that it includes entities not generally viewed as stakeholder groups, such as anti-clients and competitors.)
By seeking to maximize ecosystem value, Creative Action:
Makes game-changing innovations much more likely.
Inspires employees.
Eliminates resistance to change.
Integrates innovation, culture change and corporate social responsibility.
Secures the company's future.
The Creative Action philosophy and methodology are the product of a lifetime of study, experimentation and real-world application, and founded on knowledge acquired from many different sources.
Creative Action is offered as an open source methodology and users are invited to participate in an action research community for sharing fresh insights and newly discovered practices.
The Creative Action Exploratorium will be led by Jack Martin Leith, the developer of Creative Action and a Stellar GP associate. He will be joined by Angus Jenkinson, the CEO of Stellar GP, with whom he has worked on various projects since the early 1990s.

Flickr Slideshow: Braintrust International 2007, Cambridge, Maryland







You will find information on hundreds of events such as conferences, workshops and courses on this website - events that relate to the themes of the site: knowledge, learning, creativity, innovation and personal development.

If you would like to receive an e-mail alert, no more than once a week, that informs you of recently posted events in your region then please click on the button below and complete the form. You also have the option of being reminded once a week of events coming up in your region within the next month.




On the other hand you may prefer to subscribe to an RSS Feed that will keep you informed of events in your region.
Gurteen Knowledge Community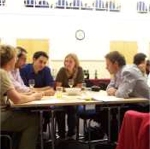 The Gurteen Knowledge Community is a global learning community of over 21,000 people in 160 countries across the world.

The community is for people who are committed to making a difference: people who wish to share and learn from each other and who strive to see the world differently, think differently and act differently.

Membership of the Gurteen Knowledge Community is free.
Knowledge Community