Collaboration Cafe. Thursday 25th October, London.
Valuable customers, suppliers, partners and stakeholders are difficult, expensive - if not impossible, to replace. There exists a 'Collaborative Paradox'. Recent research, surveys and articles show that whilst senior executives view internal & external collaboration as vital to business growth and innovation, most organisations and executives struggle to build the important relationships so often needed to maximise commercial opportunities.
In this concise and highly engaging workshop, Andrew Armour and Steve Hemmings explore why this is and show what you the simple tools to use to sharpen your personal - 'collaborative edge'.
We cover three vital elements of Collaboration; Awareness, Behaviour and Conversation. Key benefits of CollaborationCafe are;
* Understand the core soft skills of collaboration * Learn how to use smart questioning and listening * Practice leadership conversation skills * Understand links of innovation and collaboration * Smart tactics and tools - to apply straight away
For further information please contact Andrew Armour on 07971 231 025

Video: David Gurteen's keynote talk at KM Middle East 2011





David Gurteen's keynote talk at KM Middle East 2011, Abu Dhabi, UAE. Don't do KM.

Media Information:



You will find information on hundreds of events such as conferences, workshops and courses on this website - events that relate to the themes of the site: knowledge, learning, creativity, innovation and personal development.

If you would like to receive an e-mail alert, no more than once a week, that informs you of recently posted events in your region then please click on the button below and complete the form. You also have the option of being reminded once a week of events coming up in your region within the next month.




On the other hand you may prefer to subscribe to an RSS Feed that will keep you informed of events in your region.
Gurteen Knowledge Community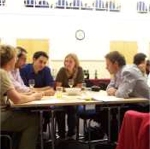 The Gurteen Knowledge Community is a global learning community of over 21,000 people in 160 countries across the world.

The community is for people who are committed to making a difference: people who wish to share and learn from each other and who strive to see the world differently, think differently and act differently.

Membership of the Gurteen Knowledge Community is free.
Knowledge Community