| | |
| --- | --- |
| Event Type | Free workshop with Arthur Shelley |
| Organizer | University of Edinburgh [David Griffiths] |
| Dates | 12 Jul 2012 |
| Venue | University of Edinburgh [Moray House] |
| Location | Edinburgh, United Kingdom |
| Other | |

We would like to invite you to a free K-Net event on Thursday, July 12th from 13:30 – 16:30 at Patterson's Land, Moray House, University of Edinburgh.

We are pleased to have Arthur Shelley from Organizational Zoo in Australia as our guest speaker. Arthur was the global Knowledge Manager for Cadbury Schweppes, before setting up his own company as a 'survival guide to organisational behaviour'.

Arthur will be taking about two hours to share tools and techniques around issues of organisational culture and behaviour; more detail about his work can be found at http://www.organizationalzoo.com/home

Also, we will be taking an hour to share experiences emerging out of the K-Net project this year and some of the new tools being used in the University's professional development certificate – including a new Knowledge Environment model and the KM value pyramid.

The event is totally free as part of the K-net knowledge exchange forum.

However, space is limited and we ask that you send an email to Eileen (E.Laughlin@sms.ed.ac.uk) if you have any questions or to book your place.



Video: RSS in Plain English







You will find information on hundreds of events such as conferences, workshops and courses on this website - events that relate to the themes of the site: knowledge, learning, creativity, innovation and personal development.

If you would like to receive an e-mail alert, no more than once a week, that informs you of recently posted events in your region then please click on the button below and complete the form. You also have the option of being reminded once a week of events coming up in your region within the next month.




On the other hand you may prefer to subscribe to an RSS Feed that will keep you informed of events in your region.
Gurteen Knowledge Community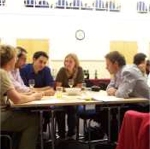 The Gurteen Knowledge Community is a global learning community of over 21,000 people in 160 countries across the world.

The community is for people who are committed to making a difference: people who wish to share and learn from each other and who strive to see the world differently, think differently and act differently.

Membership of the Gurteen Knowledge Community is free.
Knowledge Community