Academics are increasingly being expected to demonstrate the impact of their research and engage with business and external agencies. They need strategies to help realise the potential of their research for major social or economic benefit.

This short course provides essential frameworks and strategies for articulating and amplifying the impact of research outputs. The course is based around real case studies and situations drawn from a wide variety of disciplines and industries. It covers a similarly broad range of 'impacts', from social and collaborative models through to new 'for-profit spin-outs'. The sessions are highly interactive – with an emphasis on helping academics to apply innovation frameworks and business strategies within their own context.

The course is designed and led by experienced knowledge transfer professionals who have worked with hundreds of academics in different universities over several decades.

Topics covered:

-Intellectual Property, business models and commercial strategy
-Understanding users, customers, investors, collaborators
-Selling your ideas to businesses
-The non-linear lifecycle of a knowledge transfer project
-Structuring and negotiating research and commercial relationships.

Who should attend?

This course is recommended for academics only. If you're interested in attending but are not an academic please contact us to discuss other options.

Registered Technology Transfer Professional (RTTP) Status

Demonstrate your dedication and expertise in the academic technology transfer profession by becoming a Registered Technology Transfer Professional (RTTP). All PraxisUnico training courses are eligible for continuing education (CE) credits, which support your registration application. For more information about the registration process and requirements, visit the Alliance of Technology Transfer Professionals website at www.attp.info. ATTP recognises 10 CE credits for this course.



Video: Podcasting in Plain English







You will find information on hundreds of events such as conferences, workshops and courses on this website - events that relate to the themes of the site: knowledge, learning, creativity, innovation and personal development.

If you would like to receive an e-mail alert, no more than once a week, that informs you of recently posted events in your region then please click on the button below and complete the form. You also have the option of being reminded once a week of events coming up in your region within the next month.




On the other hand you may prefer to subscribe to an RSS Feed that will keep you informed of events in your region.
Gurteen Knowledge Community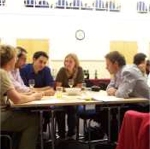 The Gurteen Knowledge Community is a global learning community of over 21,000 people in 160 countries across the world.

The community is for people who are committed to making a difference: people who wish to share and learn from each other and who strive to see the world differently, think differently and act differently.

Membership of the Gurteen Knowledge Community is free.
Knowledge Community