Technology transfer offices advise on all aspects of patents, copyrights and contractual arrangements, and facilitate the commercial development of intellectual property by licence to spin out and established companies.

Success in a technology transfer role requires a breadth and depth of knowledge and skills rarely found in other areas of business:

■Confident and proactive research and networking to find potential opportunities
■Credibility in understanding, and assessing the technologies
■Creativity and pragmatism in applying these in a commercial setting
■The ability to draft, interpret and assess IP, research contracts and licensing agreements
■Efficient planning and development of commercialisation strategies
■The ability to understand the political and cultural differences between the academic and the private sector, and to operate effectively in each
■Negotiation and relationship building to bring all the stakeholders along to a successful outcome.

This course covers core content utilising a mix of presentation, discussion, group exercise and case study work to ensure that key learning can be applied on the job.

Trainers are leading practitioners in the field and bring to the course their own in depth experiences of the challenges faced by technology transfer professionals.

Content is designed to follow the process of a "best practice" licence agreement from conception to commercialisation:

■Researching and evaluating opportunities
■Market research and commercialisation
■Intellectual property protection
■Marketing the opportunity to potential partners
■Understanding the licensing agreement
■Negotiating the agreement
■Managing key stakeholder relationships.

Who should attend?
The Fundamentals of Technology Transfer course is designed to assist those recently recruited into technology transfer offices (in academic organisations, public sector research or the NHS) to understand the breadth of the role, to assess their own development needs and to build or refresh the most fundamental skills and knowledge required for each part of the role. The course will improve delegates' confidence and provide a framework of materials and contacts to refer to when challenges arise. The course will also be of interest to industry professionals who work at the interface with academia. It will be of most benefit to those who have already worked in technology transfer for at least three months.

20% discount on group bookings

Make a 20% saving by registering five or more delegates from your organisation at the April 2012 Fundamentals of Technology Transfer course. Register four people to attend and send a fifth person free of charge!

Solicitors Regulation Authority

PraxisUnico is authorised by the Solicitors Regulation Authority to accredit its courses for the fulfilment of the continuing professional development obligations of solicitors. This course is a suitable source of CPD for solicitors and registered patent and trade mark attorneys and is categorised as introductory level for this purpose.

Registered Technology Transfer Professional (RTTP) Status

Demonstrate your dedication and expertise in the academic technology transfer profession by becoming a Registered Technology Transfer Professional (RTTP). All PraxisUnico training courses are eligible for continuing education (CE) credits, which support your registration application. For more information about the registration process and requirements, visit the Alliance of Technology Transfer Professionals website at www.attp.info
ATTP recognises 20 CE credits for this course.



Video: RSS in Plain English







You will find information on hundreds of events such as conferences, workshops and courses on this website - events that relate to the themes of the site: knowledge, learning, creativity, innovation and personal development.

If you would like to receive an e-mail alert, no more than once a week, that informs you of recently posted events in your region then please click on the button below and complete the form. You also have the option of being reminded once a week of events coming up in your region within the next month.




On the other hand you may prefer to subscribe to an RSS Feed that will keep you informed of events in your region.
Gurteen Knowledge Community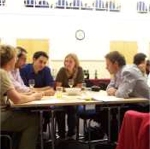 The Gurteen Knowledge Community is a global learning community of over 21,000 people in 160 countries across the world.

The community is for people who are committed to making a difference: people who wish to share and learn from each other and who strive to see the world differently, think differently and act differently.

Membership of the Gurteen Knowledge Community is free.
Knowledge Community