These lesson cards have been produced by the Clinical Governance Support Team

(CGST), part of the English National Health Service

(NHS).

The team supports the implementation of clinical governance across the NHS. They are a multi-disciplinary team comprising clinicians, patients, managers, educationalists and a variety of technical experts drawn from the primary, secondary and community care sectors.

Their aim is to support the delivery of high quality patient centred healthcare that is accountable, systematic and sustainable.

Lesson Cards

draw from the work of the front-line NHS delegate teams that attend the CGST's Development Programme. These delegate teams present their experiences and learning as Clinical Governance Strategies, i.e. as practical lessons that people can adopt themselves.

The focus is on the process of achieving change. Careful analysis of the team's work allows them to identify aspects of their experience that might be useful to others. The cards describe the context and identify the lessons that can be drawn from the situation. With each card, links are given to the Eurekas (short, structured descriptions of the service change achieved) and/or case studies on which the lessons are based.

Although these cards were developed to aid the NHS, the lessons contained in them are useful to other health services around the globe. In addition, most, if not all of the lessons are applicable in any organization.

There are three card collections. Each collection comprising of 20 cards each. A summary of the modules for this collection are shown below.



Lesson Cards

To register to receive a lesson card, once a week then click the button below and complete the pop-up form. A new lesson card will be mailed to you on the day of the week that you select.

Having completed and submitted the form, you will be sent an e-mail with details of your registration and an option to confirm or cancel the request. The service is totally FREE.







Gurteen Knowledge Community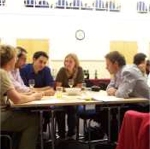 The Gurteen Knowledge Community is a global learning community of over 21,000 people in 160 countries across the world.

The community is for people who are committed to making a difference: people who wish to share and learn from each other and who strive to see the world differently, think differently and act differently.

Membership of the Gurteen Knowledge Community is free.
Knowledge Community