The Gurteen Event Calendar is a comprehensive global directory of conferences, seminars, workshops and courses on subjects relating to the themes of this site. Events are annotated as follows:


- I plan to attend.
- I am personally involved and may be speaking, chairing or facilitating.
- There is an outstanding "Call for Papers" for this event.
- I have arranged a discount with the organizers members of my knowledge community.


You will find information on hundreds of events such as conferences, workshops and courses on this website - events that relate to the themes of the site: knowledge, learning, creativity, innovation and personal development.

If you would like to receive an e-mail alert, no more than once a week, that informs you of recently posted events in your region then please click on the button below and complete the form. You also have the option of being reminded once a week of events coming up in your region within the next month.




On the other hand you may prefer to subscribe to an RSS Feed that will keep you informed of events in your region.
If you are an event organizer and would like to include an event on this site then please see here.
I have a set of links to a number of other event calendars on this site and also maintain a list of major annual events. The full event directory is shown below.


| | |
| --- | --- |
| | July 2017 |

4th European Conference on Social Media
ECSM 2017
03 - 04 Jul 2017, Academic Conferences
Mykolas Romeris University,, Vilnius, Lithuania

The Implications of Blockchain for KM and IM
Thu 06 Jul 2017, Network for Information and Knowledge Exchange (NetIKX)
British Dental Association, London, United Kingdom

Advanced Course in KM
12 - 13 Jul 2017, Henley Forum
Henley Business School, Henley on Thames, United Kingdom

Perspectives on Leadership, Learning and Social Enterprise in Asia
Sharpening Focus on Research Collaborations and Publications.
25 - 27 Jul 2017, ELLTA
Asian Institute of Technology, Bangkok, Thailand


| | |
| --- | --- |
| | August 2017 |

KM Australia 2017
All our knowledge has its origins in our perceptions
01 - 03 Aug 2017, Ark Group Australia
Parkroyal, Sydney, Australia

The 6th International Workshop on Learning Technology for Education challenges, LTEC
LTEC 21-24 August, 2017, Beijing, China
21 - 24 Aug 2017, Dario Liberona
Beijing Conference Center, Beijing, China

KMO 2017: the Twelfth International Conference on Knowledge Management in Organizations
KMO International Conference
21 - 24 Aug 2017, Jia Tong University
Beijing, China


| | |
| --- | --- |
| | September 2017 |

Reflections 2017 Global Conference
Leadership Development that changes the world for the better
06 - 09 Sep 2017, CoachingOurselves
Hyatt Regency Hotel, Montréal, Canada

18th European Conference on Knowledge Management
ECKM 2017
07 - 08 Sep 2017, Academic Conferences
Universitat Internacional de Catalunya (UIC), Barcelona, Spain

Free personal development conference: Leading Edge Annual Conference 2017
FPDCLEAC
Tue 12 Sep 2017, IGD Leading Edge
Queen Elizabeth II Conference Centre, Broad Sanctuary, Westminster, London, United Kingdom

Gamification Masterclass for HR purposes
14 - 15 Sep 2017, Global Leading Conferences
Mercure Hotel, Wien, Austria

12th European Conference On Innovation and Entrepreneurship 2017
ECIE 2017
21 - 22 Sep 2017, Academic Conferences and Publishing International Limited
Novancia Business School, Paris, France

eLearning Africa 2017
12th International Conference on ICT for Development, Education and Training
27 - 29 Sep 2017, ICWE GmbH
Mauritius

KM: The Works (October)
A foundation course in law firm KM
Thu 28 Sep 2017, Helene Russell, TheKnowledgeBusiness
TLT , London, United Kingdom


| | |
| --- | --- |
| | October 2017 |

Perfectly Natural Retreats
Perfectly Natural Iceland
10 - 13 Oct 2017, Thora Thorsdottir
Solheimar Eco Village, Near Selfoss, Iceland

KM: The Scores (October)
Measuring the ROI of law firm KM projects
Thu 12 Oct 2017, Helene Russell, TheKnowledgeBusiness
TLT , London, United Kingdom


| | |
| --- | --- |
| | December 2017 |

OEB 2017
23rd global, cross-sector conference on technology supported learning and training
06 - 08 Dec 2017, ICWE GmbH
Hotel InterContinental Berlin, Berlin, Germany

If you find a KM Event then tweet it and add the tag #kmevent
Gurteen Knowledge Community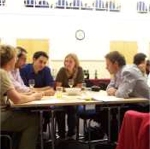 The Gurteen Knowledge Community is a global learning community of over 21,000 people in 160 countries across the world.

The community is for people who are committed to making a difference: people who wish to share and learn from each other and who strive to see the world differently, think differently and act differently.

Membership of the Gurteen Knowledge Community is free.
Knowledge Community